"Don't ask me to leave you! Let me go with you. Wherever you go, I will go; wherever you live, I will live. Your people will be my people, and your God will be my God.
Wherever you die, I will die, and that is where I will be buried. May the LORD's worst punishment come upon me if I let anything but death separate me from you!"
(Ruth 1:16-17)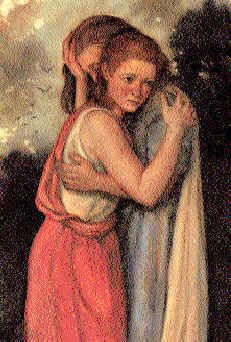 Imagine your husband and father in law died. Mother-in-law was going to go back to her native country, which was in the middle of Africa somewhere. Where there was not electricity, running water, the tribes live in grass huts, where you don't know the language and would be expected to work along side these people. You would be leaving your own family behind - your Mum, your Dad, your siblings.
That is moving out of your comfort zone for the love of your Mother-in-law. It would be hard for you, awkward at times, there would be alot of uncertainties. How would you get on? Would you survive without the things you are familiar with?
God calls us onwards in our journey and growth in Him. We are not supposed to be comfortable where we are in our journey. We are to keep going forward, keep striving for excellence, keep feeding our spirits so they grow, keep challenging ourselves so that we may get stronger and more mature.
I do not claim that I have already succeeded or have already become perfect. I keep striving to win the prize for which Christ Jesus has already won me to himself.
Of course, my friends, I really do not think that I have already won it; the one thing I do, however, is to forget what is behind me and do my best to reach what is ahead.
So I run straight toward the goal in order to win the prize, which is God's call through Christ Jesus to the life above.
All of us who are spiritually mature should have this same attitude. But if some of you have a different attitude, God will make this clear to you.
(Phillipians 3:12-15)
Ruth was definately willing to step out of her comfort zone because she loved her MIL so much. She was willing to go places she had never been, because she loved her MIL so much. Would we do the same for God? Do we serve God with this same attitude?
But it's not all bad.
When Ruth stepped out of her comfort zone, she was blessed in ways that may not have happened if she had stayed put in her own country. She met a man named Boaz who showed her favour. He told her to keep working in his fields, he told the men in his fields to not touch her - she was under his protection. He also served her food from his own table, and he blessed her by instructing his workers to "accidently on purpose" drop wheat on the ground so she would be able to pick it up. She walked out of there carrying about 11kgs of wheat in one day! That's an amazing blessing on her. She ended up being married to Boaz and having a son.
When we step out of our comfort zone in order to pursue more of what God wants for us, he will bless us and show us favour. We need to adopt the attitude of Ruth - that wherever God leads us, we will go.
Ruth went on to say
"May the LORD's worst punishment come upon me if I let anything but death separate me from you!"
She pledged her whole life to her MIL. God wants that same passionate promise! Nothing but death will seperate me from you!
MY PRAYER
Almighty Father,
Thankyou for your Word to me. I pray that I am reminded on Ruth when I start to get comfortable in my walk with you. I want to go with you, wherever you want to take me. I surrender my life to you, my ministry to you, my home, my gifts and talents - they are yours. Do what you will with them. Use them in a way that will glorify you. Nothing but death will seperate me from you, dear God.
Grow me Father, as I go on with you.
In your mighty name, Amen.