Psalm 23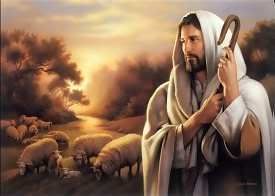 A psalm by David. The LORD is my shepherd. I am never in need.
He makes me lie down in green pastures. He leads me beside peaceful waters.
He renews my soul. He guides me along the paths of righteousness for the sake of his name.
Even though I walk through the dark valley of death, because you are with me, I fear no harm. Your rod and your staff give me courage.
You prepare a banquet for me while my enemies watch. You anoint my head with oil. My cup overflows.
Certainly, goodness and mercy will stay close to me all the days of my life, and I will remain in the LORD'S house for days without end.
Hands up who thinks being a Christian is easy?? As soon as you made Jesus your Lord and Saviour, every single waking minute has been a piece of cake!!
Anyone?
Ok hands up who thinks being a non-christian is any easier?
I personally don't think either way is easy. LIFE isn't easy. Did anyone find it hard to make a career choice? Whether or not to have a baby? Should I marry this person? Should I buy this house? Should I sell this car? Should I... will I... can I... but what if???
Death still happens, unexpected tragedy still happens, rape, murder, theft, torture, bullying, abuse, your house burning down, war, famine etc happens - whether you are Christian or not. We are not shielded from sin, because we live in a sinful world.
So if life is not going to be easier as a Christian, why bother?
Because as a Child of God - you have company. You don't have to do it alone. You have the love and guidance of a Heavenly Father. I love in Psalm 23, even as we die, God is with us. He will never leave us to face "life" alone. He's right there in every situation - every decision - every tragedy - every moment, guiding us if we feel lost, teaching us when we don't know what to do, loving us at every moment - even when we feel unloveable, comforting us in times of sadness, providing us rest when we need it and then sending us back on our way when it's time.
If I didn't have God, I don't think I could have done life. God poured his strength, his love and his healing power into me, so I could live a life of freedom and purpose - the life he intended for me.
I love that God is with me at every moment. I can have the mentality that my life is a team effort. I don't have to do all the hard stuff alone. Imagine the life of people who DO do it alone.
I pray that today you have a fresh realisation of God and his incredible presence. I pray that today, you have a renewed sense of security in your Creator and Father.
MY PRAYER
Father, Thankyou for being with me. Thankyou that I don't have to walk this journey alone. Thankyou for this reminder that you are my rock, my salvation, my shield, my shepherd and many more things. Thankyou for never giving up on me and loving me all the time. Help me teach this to my children as they grow up, and start living their own life. Help me show them that they don't have to be alone.
Amen