Do you have a special friend? A best friend? A friend that you enjoy hanging with? A friend you enjoy chatting with? Friends are great! They are a beautiful reminder that we are created to relate to one another and love one another. When God created man, he recognized that it was not good for man to be alone. He knew we needed more than just Him. He knew we were created for companionship and a desire to be with people. Some people are geared more that way than others, but all of us need other people.
But not only can we appreciate and love the human friends around us, but we can embrace and enjoy the friendship that Jesus has to offer us.
John 15:9-17 "I have loved you even as the Father has loved me. Remain in my love. When you obey my commandments, you remain in my love, just as I obey my Father's commandments and remain in his love. I have told you these things so that you will be filled with my joy. Yes, your joy will overflow! This is my commandment: Love each other in the same way I have loved you. There is no greater love than to lay down one's life for one's friends. You are my friends if you do what I command. I no longer call you slaves, because a master doesn't confide in his slaves. Now you are my friends, since I have told you everything the Father told me. You didn't choose me. I chose you. I appointed you to go and produce lasting fruit, so that the Father will give you whatever you ask for, using my name. This is my command: Love each other.
I love how The Message version puts the first part:
"I've loved you the way my Father has loved me."
Oh wow! OH WOW! It's so amazing to be reminded of just how much we are loved. There are no conditions placed on this love - we are given it freely - it is not with-held from us unless we bring 50 people to Jesus and give 10 grand to the church. It's given to us.
We are encouraged to remain in his love by obeying his commands - which was to love one another. Why is loving each other so important? I believer our love of each other is a response to the love that we receive from Christ. We love because we are loved. When we fully understand the love of Christ we can't help but love one another.
Jesus expressed his love for our enjoyment. He wanted us to be filled with joy over the fact that we are loved. I don't know about you, but when I remember all Christ has done for me. When I remember the goodness of God as I have been through the most difficult parts of my life. When I remember that Jesus loved me BEFORE I loved Him, even at my very worst, I can't help but be thrilled to bits. This love-fest makes me want to love everyone.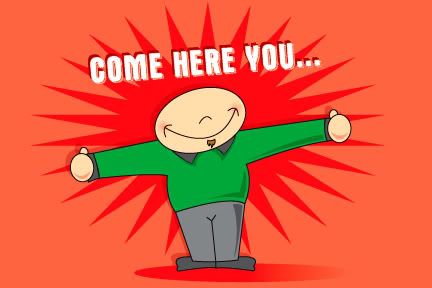 We didn't choose Jesus - he had already chosen us! This excites me! This really does! So even before I fell on my face before God, repenting, accepting Christ into my life, Jesus was already there, waiting for me. I wasn't the one waiting for Him! You were chosen by Christ! You were chosen to be his friend. :) TOTALLY COOL!
Now you are my friends....
I have a friend that I feel very at ease with. When I am in her home, I can go get myself a drink, give my kids something to drink, cook in her kitchen, borrow her kids clothes if my kids mess themselves, rummage around in her cupboards for whatever I need. I've often joked that one day I'll turn up at their house in my PJ's. They've responded with "We don't care. Come in your PJ's." Friends are people you can relax with, be comfortable with, share with, laugh with and enjoy. Jesus calls us his friends. So we can relax! Chill out! We don't need to come to him with pious sounding prayers and Christianese. We don't have to be stiff and uncomfortable in his presence - he's our friend! He's called you friend! He's called me friend!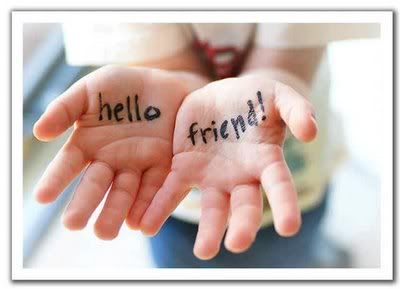 What is your response to this?
MY PRAYER
Lord Jesus, friend and love! Thank you for your love! Thank you that I don't have to deserve it or earn it, I have it. Thank you for calling me your friend. You are my friend - the very best friend I have. I pray that your Word will speak into someone's life today - and help them realise just how treasured and wonderful they are in your eyes. Help me to love other's with the same love you gave, unselfish and sacrificing.
Amen.