Last night I was watching "World's Strictest Parents" - and the promotions came on for next week's episode and to my delight a familiar face appeared!
15 years ago 2 very special people - Grace and Mark - were placed in my life by a God who loves me and wanted me for Himself. I consider these people to be the bravest and most influential people in my life. They met me when I was in a very bad place. They met me when I was spewing venom from my mouth, abusive, rude, nasty, vindictive, utterly horrible. My heart was so wounded it was infected and it affected every part of my life. I was hurting so much that I just wanted to die and later on I would seriously consider this option.
Grace and Mark did not back away from me when everyone else did. They never condemned me or told me what I should be doing or acting. They loved me and accepted me as I was, taking me into their home on school holidays and weekends. They let me be part of their family and let me run around their property having a wonderful time! "Work" at that place was really good fun to me! Chasing sheep around, rounding up goats, checking dam levels - because there was plenty of opportunity to play!
The best thing they ever did was share their love of God - whom, at that time, I hated and resented. They never backed away from me or put me in the "too hard basket", but stood by me and loved me. They showed me, through their love and acceptance of me, that God loved me, right where I was, just the way I was. Hurt, venom, anger and all! 8 months after meeting them they introduced me to Jesus.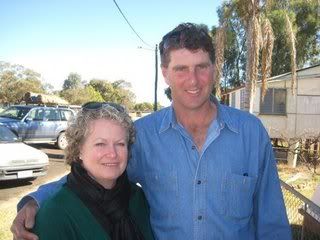 They gave me an excellent foundation of my faith by teaching me how to read the Bible and how important it was to hear from God through His Word. They taught me how to worship, how to build a relationship with God. Nothing was too hard for them. They drove 860kms to Youth concerts (we all lived in the Aussie Bush) and conferences to expose me to so much more.
I made some pretty dodgy decisions at this time - I engaged myself to someone I barely knew. I was never told I was stupid, silly and such a immature girl (which I think was the case here!!) - they just tried their best to influence me in their lovely way. Grace once told me that she felt I was going to marry someone tall, dark and handsome. She was right you know!! The man I married is tall, dark and very handsome!! :)
Life was terrible at this point - I still had such a terrible hurt in my heart, and it was effecting every aspect of my life. I was desperate to live the life Jesus intended for me, but I couldn't with this big sceptic wound inside me. When I couldn't bear it anymore and seriously considered ending my life to put an end to my pain - God intervened - and I was back with Grace and Mark, in their home. I don't know if they know this, but it was during this time that God began a transformational work in me. I was given space to grieve, cry, and release all those tears I had held in all those years. They still loved me, and ministered to me while God ripped out the terrible pain that had taken possession of my heart.
They will be one of the families that take in some troubled teens on the program
"World's Strictest Parents"T
They are such godly and loving people, and I can tell you right now, they are more than qualified to help the teens that come to stay with them. I hope this program shows their good heart, their love towards all who come to them in need, and their love of a God that they have ultimate faith in.
World's Strictest Parents airs on Channel 7, 7:30pm - Australia.