Last night I spat the dummy. I had offered to fill a need in the church, and it feels like I've been knocked back. In my fleshy fired up state I was thinking "what IS their problem???"
Today I was praying in the car on the way home from dropping off my little one to kindy. Just having a whinge really. Poor God got an earful today from a miserable, grumpy old bag of a woman. I just seem to be perpetually in a bad mood lately. Anyway I was belly aching about not being used.
And God's response?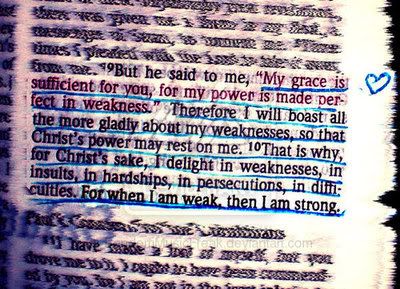 My Grace is sufficient for you.
Shuddup. :)
How is God knows exactly what to say? :)

"...he said, "My grace is all you need. My power works best in weakness." ...For when I am weak, then I am strong."
2 Corinthians 12:9-10
His Grace IS sufficient... it's all I need at this moment. So I may not exactly be that thrilled with where I am at the moment - and that's ok. Because it will be this (weak, whinging, grumpy) little lady that Christ can work through and with.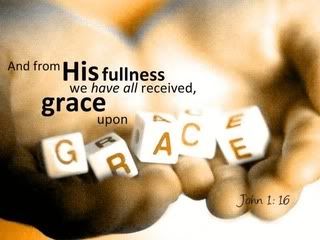 MY PRAYER
Dear God, Thanks for teaching and growing me. I hate this place. I know you know that. Please help me grow some good fruit while I am in this place... because seriously it's got enough manure to sustain a plantation of bananas!! Help me to be gracious and patient. Help me remember that your grace is all I need at this moment.