I am sitting here, in excruciating pain. My legs are so bad, I'm tempted to go get my husband's jig saw and cut them off at the knee. Ow. Ow. OW! I have a condition called
fybromyalgia
and I admit that 99% of the time, I just suck it up and get on with life. I don't see the point in whinging and complaining about something that can't be helped and can't be eased.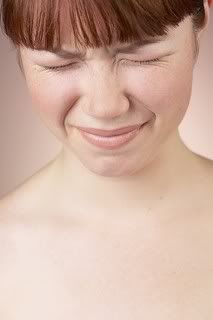 So... in the midst of all this pain, I flicked my bible open, hoping that God will speak to me or show me something. I opened up to Matthew 8 - and find many stories of Jesus healing the sick. I find healing amazing!! Jesus only had to touch a man with leprosy and he was healed. He only had to speak and disease and sickness left the body. What a powerful Saviour we serve!
I like it. I like that my God can heal my pain. I like that my God can take it away. And even if he doesn't take it away, when I die, I am going to be pain free. I am going to be able to run, jump, skip, and I WILL be pain free. I'm not going to hold it against God if chooses not to heal me, and I can look forward to a time when no one is in pain, no one is sick, no one is diseased.
Yes my pain levels are high, yes it can be debilitating, but my God is more powerful than fybromyalgia - and it's in his strength that I continue to live and continue to serve Him. I am reminded of the scriptures I read a few posts back -
2 Corinthians 12:8 Three different times I begged the Lord to take it away. Each time he said, "My grace is all you need. My power works best in weakness." So now I am glad to boast about my weaknesses, so that the power of Christ can work through me. That's why I take pleasure in my weaknesses, and in the insults, hardships, persecutions, and troubles that I suffer for Christ. For when I am weak, then I am strong."
MY PRAYER
Lord God, if you are willing, please take away this pain. If it's not your will, then use my weakness for your glory. Use my pain to reach out and touch someone else. Give me the strength to endure the journey I must walk. Help me encourage and uplift others who are suffering as well.
Amen